I know that you feel your absolute best and most confident self.
So, of course, this means I am totally for embracing your greys if you want.
After all, gray hair has been trending for a while now, and natural hair color and complexion are stunning.
But if you are not yet ready to embrace your grays, we are also all about helping you cover them.
Boyd's Brush It Away grey hair cover-up is expertly formulated to cover gray hair while keeping your haircare routine low-maintenance.
Grey roots are not a bad thing.
Almost all of us will have (at least) a distribution of silver strands, and it's up to us whether we embrace them or get them covered.
It's the same for your clients; there's no wrong or right way to treat their gray hair, but some may be keen for you to help them get white regrowth under wraps.
If that's the issue, how you approach those grey roots comes down to the hair color you're working on, with greys usually appearing more visible on black or brunette hair.
This guide covers dark hair's grey roots, whether your client has a few silvery wisps or thicker, more stubborn regrowth.
Be True to Committing Your Greys
With grey hair, there are methods to conceal it, but if you don't want to see any of it and want to cover it (completely), you have to do permanent color—and that's the proper commitment.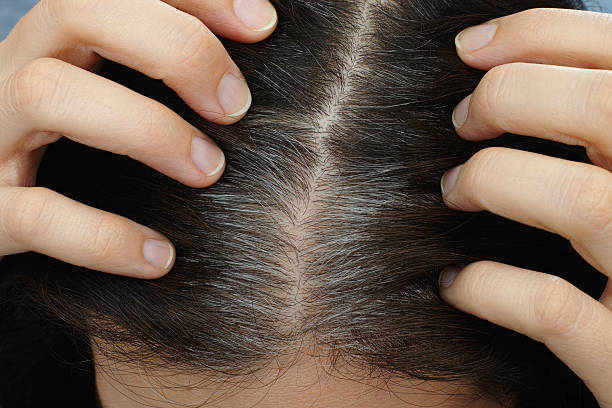 Doing this will also give you limited options if you decide to stop covering the greys because you'll have to deal with different styles throughout your hair. Also, if you stop that process of permanent color, it can raise some issues with color consistency down the road.
Preparing Your Hair for Coloring
There are ways people prepare their hair to better absorb coloring because of the minerals in the water and how they can affect your hair.
Minerals in the water will stop the color from processing the incorrectly. In addition, it can slow the bleaching process down. Shower filters can help reduce the minerals in the water using a technique similar to how a Brita filter removes impurities from tap water.
How to Touch Up Grey Roots on Dark Hair
Temporary hair makeup is in at the moment right now.
Create a bridge and connect the gap between salon appointments and hair solutions; this temporary gel can be cleaned and washed out whenever DIY grey coverage is preferred.
Once again, this is why I love Brush It Away, which comes in a purse-friendly arrangement with a unique formula and a handy brush to instantly target regrowth. So stock up on Boyd's'product and recommend it to clients who ask for an in-between solution.
It has six adaptable shades:
Light Brown
Medium Brown
Dark Brown
Auburn
Blonde
and Black.
Using Highlights to Blend Gray Hair on Dark Hair
For clients in the salon who don't want the 'get it all gone' complete regrowth, adding highlights or lowlights can be a flattering look for blending greys away. Tactically placed around the hairline, this procedure can make the silvers look a little like highlights.
Try creating a look, assuring you add highlights entirely bespoke for your client's grey pattern.
Practice Applying Your Applicator
Whether you're using a spray or Brush It Away applicator, it is well worth your time to make sure that you do a test run of the outcome to see how it will apply. Test your target grey hairs on a piece of paper towel first.
We are doing this will allow you to make adjustments if the product comes out too drippy or see the opacity of the colors.
When you go to place the color on your hair, you'll be gratefulyou took the time to test the applicator.